Announcement of 20. June 2018
AV-Test awards 100th test certificate to G DATA for security software
Ceremonial presentation to the inventor of the antivirus in Bochum
Special award for G DATA: independent test institute AV-TEST has awarded the German IT security provider its 100th test certificate. Business executives Maik Morgenstern and Guido Habicht and Test Laboratory Head Erik Heyland presented the award in person to G DATA board members and company founders Kai Figge and Andreas Lüning on the G DATA Campus in Bochum.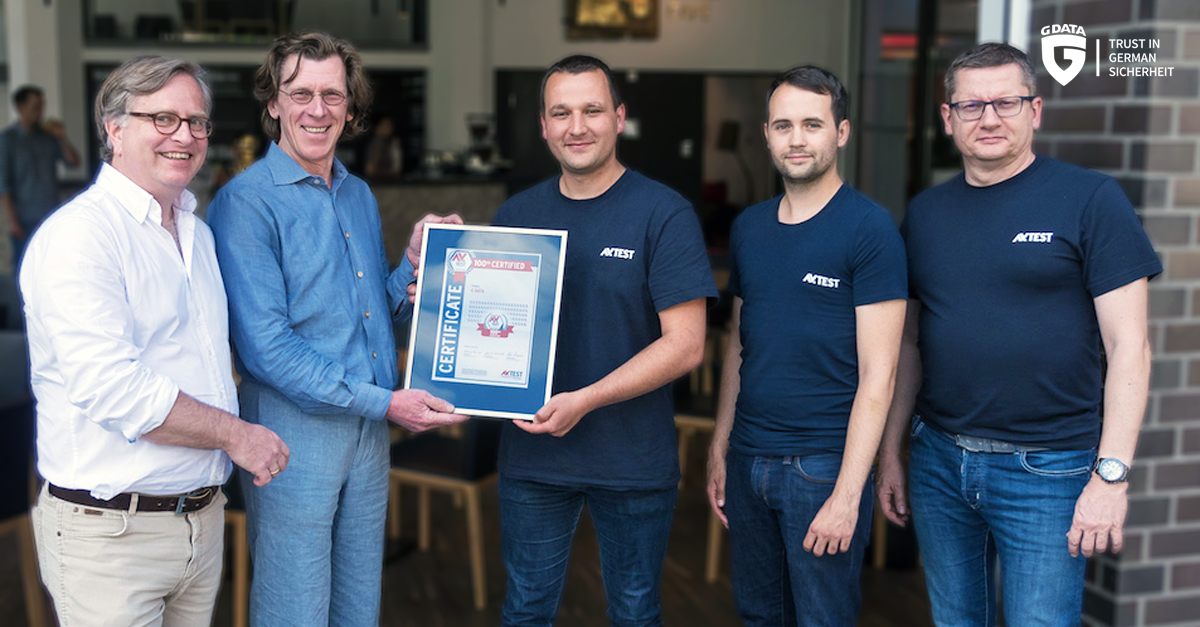 "One hundred certificates for our security solutions are an impressive number. We are delighted with this award from one of the most renowned testing laboratories for IT security solutions in the world. It shows what kudos IT security 'Made in Germany' has," says Kai Figge, board member and founder of G DATA Software AG. At the presentation, Guido Habicht, CEO of AV-TEST, praised the long-standing collaboration: "For over 30 years, G DATA has stood for reliable protection of corporate IT and end user PCs. We have been associated with G DATA since our test institute was founded in 2004 and our tests have confirmed the good work of the security experts and their products."
Besides the regular certifications over the past 14 years, there was a special award for G DATA back in 2016. The German IT security provider and Microsoft jointly received the AV-TEST Innovation Award for Managed Endpoint Security powered by Microsoft Azure.
AV-TEST GmbH is an independent supplier of services in the fields of IT Security and Antivirus Research, focusing on the detection and analysis of the latest malicious software and its use in comprehensive comparative testing of security products.
Due to the timeliness of the testing data, malware can instantly be analyzed and categorized, trends within virus development can be detected early, and IT-security solutions can be tested and certified. The AV-TEST Institute's results provide an exclusive basis of information helping vendors to optimize their products, special interest magazines to publish research data, and end users to make good product choices.
Media: