Additional module
Server Protection and Gateway Security
Block threats before they reach endpoints
All network traffic is safeguarded at server level
Harmful websites and e-mails don't even make it to your employees
Guest devices in the network without Endpoint Protection are also protected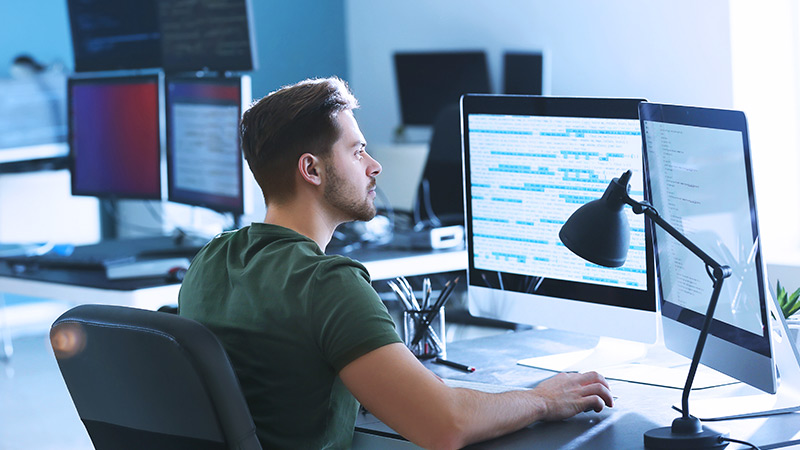 Strengthen your Outer Defenses with Server Security
Cybercriminals most often use e-mails and websites to sneak malware into a company's network. This happens in the form of a malicious attachment in a spam e-mail or an unnoticed download while surfing the web, for instance.
Our Endpoint Protection add-ons filter out these threats at the earliest possible stage, starting at the server and gateway level. They protect all network traffic that passes through mail servers or proxy servers – even before it reaches your employees' endpoints. Another major advantage is that guest devices that don't have endpoint security software installed are no longer a risk because malware doesn't reach them in the first place.
The server and gateway protection also secures devices on the network that cannot be protected by an endpoint protection solution. Since it is fully integrated into the dashboard of our security solution, it is easy to keep track of the security of all clients and servers.
Safeguard E-mail Communication
Proven G DATA Protection for Mail Servers
Add-on
G DATA Exchange Mail Security
Security plug-in for Microsoft Exchange Server
Real-time protection: Dangerous e-mails and attachments are detected as soon as they arrive on the Microsoft mail server and do not end up in the inbox of an endpoint.
Keep your employees productive: The anti-spam function filters out unwanted junk mail on the server so that your team can continue to work without interruption.
Blocking e-mail addresses and domains prevent further distractions caused by dangerous or unsolicited information.
Add-on
G DATA Linux Mail Security Gateway
Security plug-in for Sendmail and Postfix Servers
Rely on comprehensive protection against viruses in e-mail attachments.
Anti-spam for annoying bulk messages stops your users from being burdened with more e-mails than necessary.
Protect your team from dangerous or unsolicited e-mails with e-mail address and domain blocking.
Alternatively, use this solution to deploy an upstream Sendmail or Postfix gateway to protect any other mail server.
Block Threats from the Web
Server Security for your Squid Proxies
Add-on
G DATA Linux Web Security Gateway
Security plug-in for Squid servers
Scans your entire company's communication channels – even encrypted content – for malware with the Internet. Online threats are detected before they have the chance to develop.
The anti-phishing option with cloud-based web address matching makes sure that your employees don't fall for deceptive links and offers that target your company data.
Set up blacklists and whitelists for websites, IP addresses, or file types, for instance, to protect your team from dangerous or inappropriate content.
Quick to set up and centrally managed
Whether it's mail server or proxy server security, you choose the add-on that is right for you and simply add it to your business solution.
After it has been installed, the server protection will appear in your G DATA Administrator as normal
Configure all of your server protection settings from the Administrator
It's easy to get started thanks to a structure that is similar to that of your security clients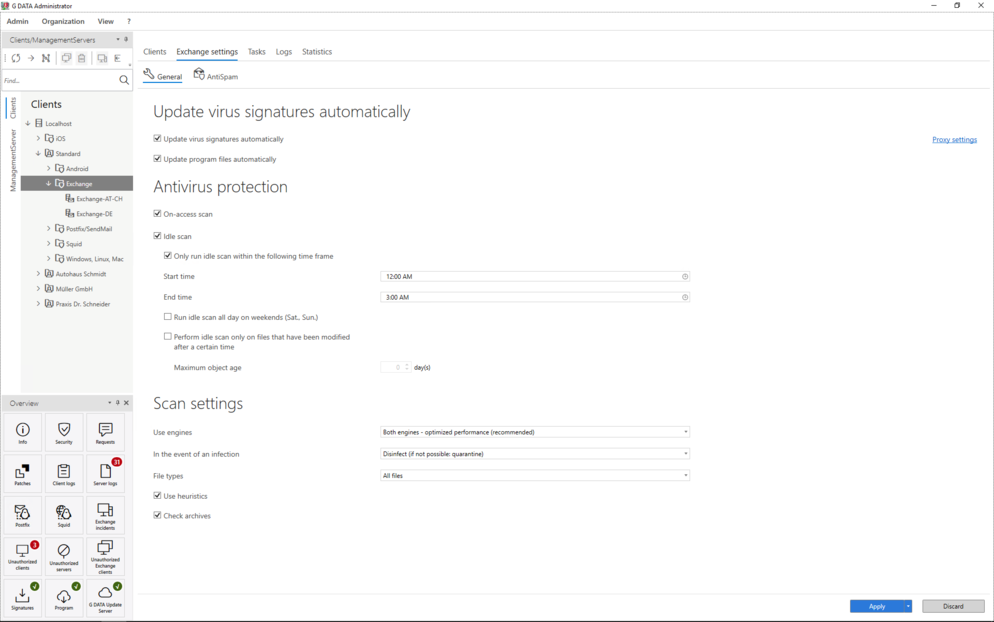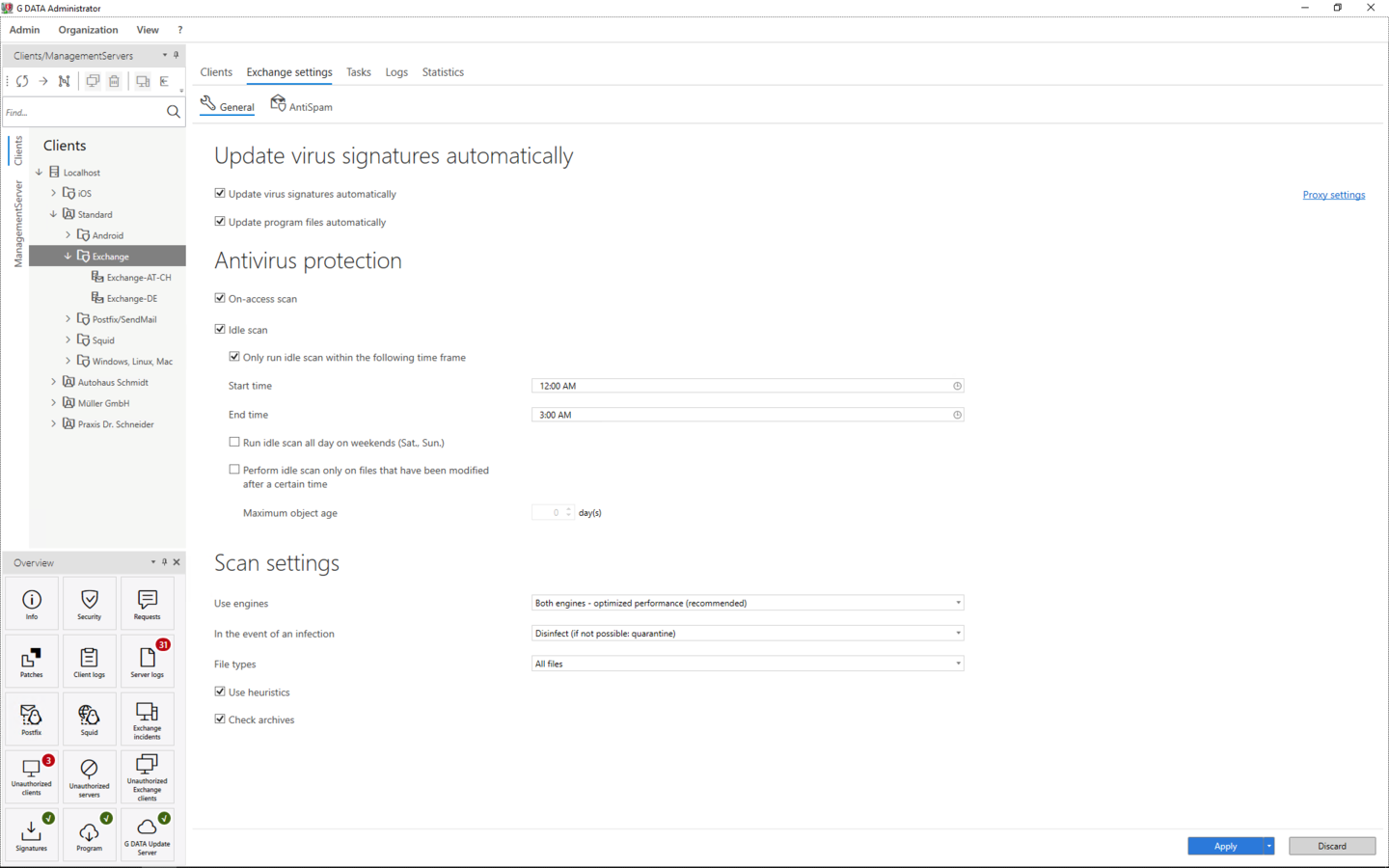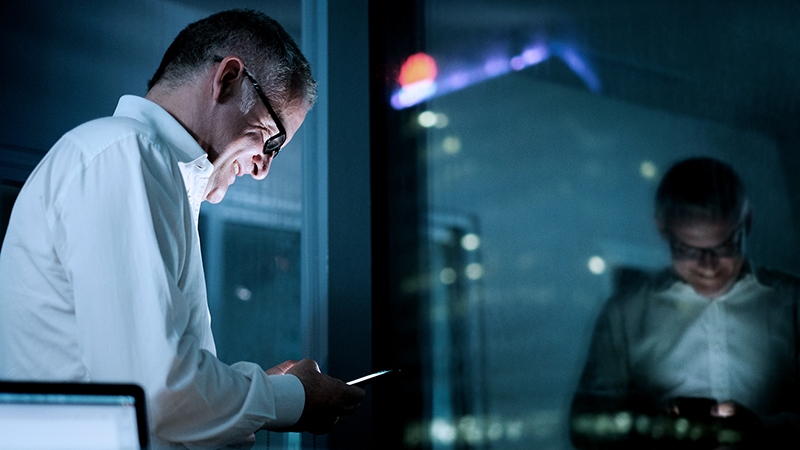 24/7 Support
Our service and support teams are located in Bochum – right next to the software development team. You can reach our experts at any time by phone or by e-mail, 24 hours a day, 365 days a year.
The Risk
Servers Become a Dangerous Gateway
E-mails and websites are among the biggest gateways for attacks on companies.
G DATA's server protection significantly reduces the risks for you:
Costly fraud due to phishing e-mails
Privacy breaches and information leaks
Malware infections via dangerous websites
Financial losses from attacks via unprotected mobile devices
Ransomware from infected e-mails or malicious websites encrypting your data
High amount of time and resources consumed by spam e-mails on clients
Enhance the security of your business today and expand your endpoint protection and firewall with comprehensive server protection.
Security with just One Click
Even Stronger Protection thanks to Patch Management
The optional Patch Management module allows you to easily ensure that all clients in the company are always using the latest software versions. This means that vulnerabilities in the operating system and in installed programs can no longer be exploited.
Close vulnerabilities in Adobe, Chrome, Java, and more
Complete control over how up to date your IT systems are
No downtime thanks to compatibility tests for software patches